DBO will get you going. Fast.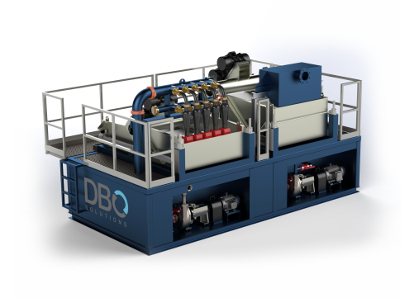 You've got the staff. You've got the field equipment. You want to run the show. Now it's time to expand your hydrovac or utility maintenance operation by capitalizing on the waste you generate and haul every day. Contracting underground utility work is super competitive. Our designs are bourne from contracting by contractors. We offer dewatering systems for plant based permanent installations, including the MR 2000/4000 series modular systems and the fully mobile ME 2500/4000 series.
Our systems easily dewater spoils generated during  hydro excavation, potholing and other hydrovac operations. Street wastes such as storm sewer waste, street sweepings, catch basin debris as well as  sewer grit are also easily dewatered.
Our proven mechanical dewatering systems are the most advanced in the industry. With a DBO solution you'll get four times as much throughput capacity as you'd have with an outdated gravity facility. Here's how we do it
Design
We start by working closely with your team to understand your business and goals. Our team will come to you, get a deep understanding of your work and how you need the dewatering solution implemented.
Once we've completed the evaluation we'll deliver a design that's the perfect fit to move your business to the next level. You'll have a detailed breakdown of costs as well as important information about how your custom solution will be implemented.
Build
When the partnership contract has been signed, DBO will immediately start implementing your solution. In some cases we can have you up and running in as little as eight weeks.
Operate
Once we're finished with your installation, we're not finished with you. A variety of support contract solutions are available to make sure your facility runs at maximum capacity for years to come.
If mobility is a key criteria then take a look at one of our mobile solutions